A medical manufacturer produces medical tubing using copper forms. The aseptic production finishing process employs oxidizing agents to remove residual metallic impurities and organic contamination from the finished medical tubing. Tubing quality is assured by removing chemistry and dissolved copper in a series of rinse baths. Concentrations of oxidants and dissolved copper in the wastewater depend on production volume and must be treated and disposed of according to EPA and local regulatory guidelines. Chemical precipitation of copper created issues due to (1) the site's need to scale production without room to expand the treatment plant and (2) the environmental, safety, and costs involved with the hazardous sludge generated as a chemical precipitation byproduct.
Manufacturing uses a series of nitric acid rinses to remove copper contamination from the manufactured tubing. Production forecasts were up, resulting in a need to increase production volume. Simultaneously, the local regulatory authority mandated a reduction in the copper discharge limit to 0.5 ppm. These conflicting challenges complicated wastewater treatment operations and created a bottleneck for expansion plans to address production planning. The current chemical solutions required constant maintenance with regular jar testing to attempt process control but could not address wastewater variability and resulted in breakthrough events. As a result, ElectraMet was selected to implement its copper capture and recovery solution to address the variability and prevent breakthrough events, assuring compliance while generating new revenue from the 99.99% purity copper reclaimed onsite.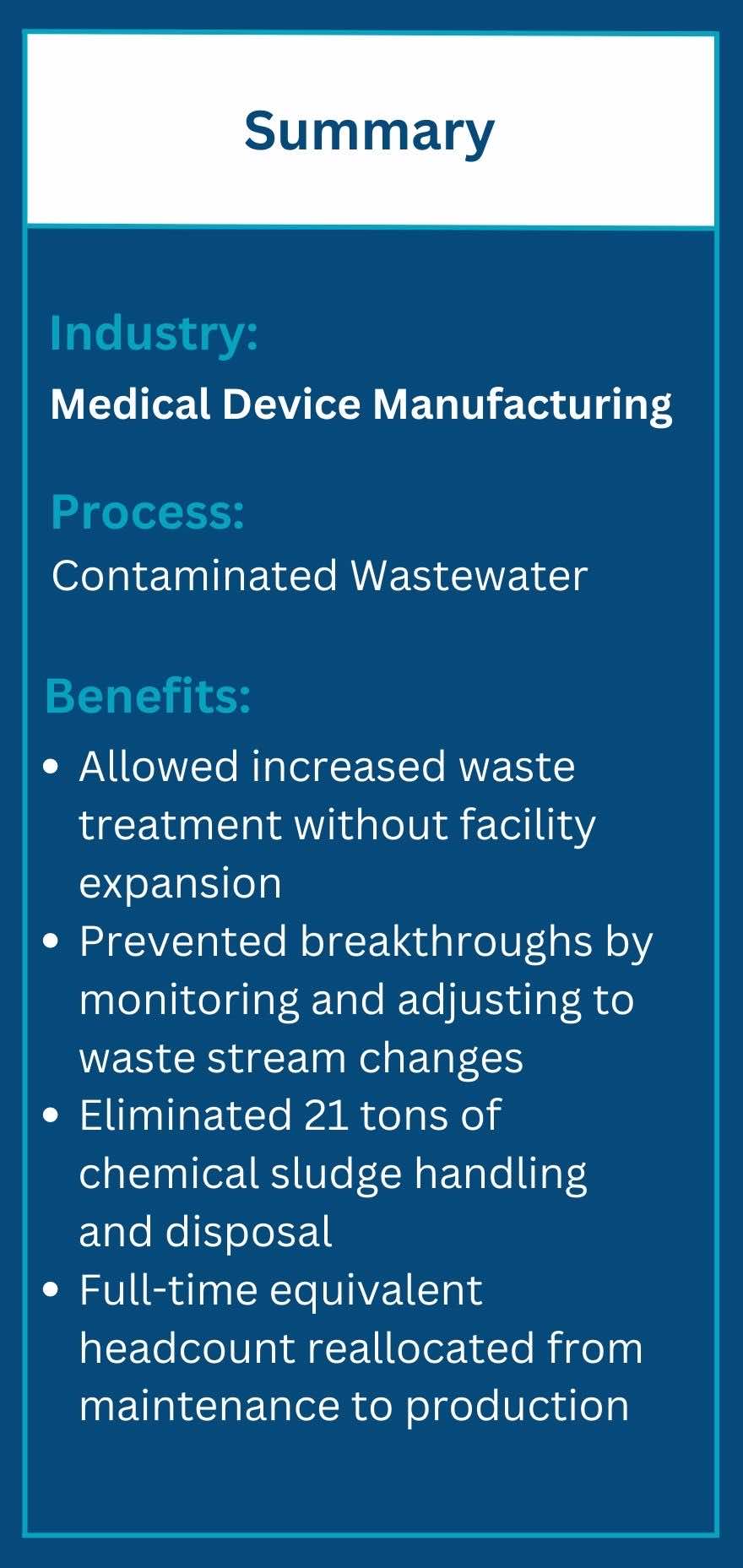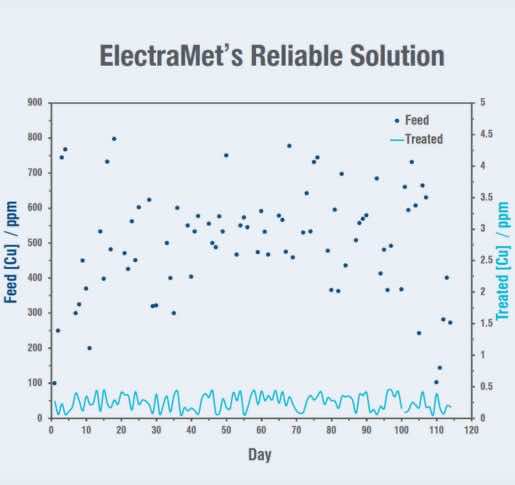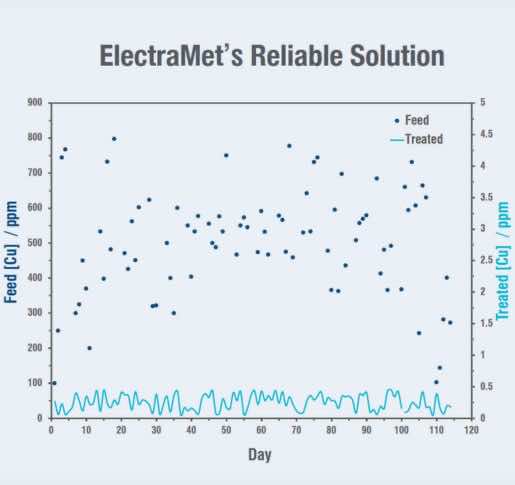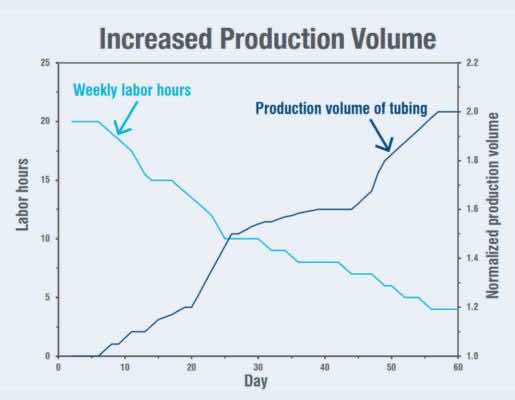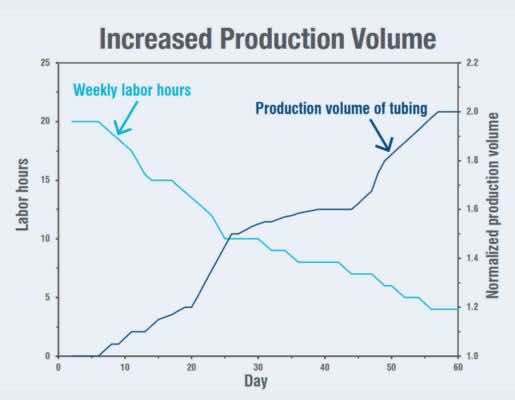 Proven Results | Case Study
The rinse wastewater stream generated at a medical device manufacturing facility contained 100 – 800 ppm of copper (Cu), with a mean value of 500 ppm. The site permit previously allowed 2.07 ppm in their discharge and was recently lowered to 0.5 ppm. ElectraMet's modular and automated solution was implemented to scale with the planned expansion.
Over a 60-day period, the site was able to achieve the following with the implementation of ElectraMet's solution:
Maintain reliable compliance with new permit levels of 0.5 ppm Cu.
Reduce wastewater treatment labor by 75% and reallocate labor from wastewater treatment to medical tubing production. 
Increase tubing production volume by 100%. 
Produce recyclable high-grade Cu, supporting environmental, social, and governance (ESG) initiatives.
ElectraMet's automated solution utilizes an electrochemical process to selectively remove target metals and impurities for medical device manufacturers. The system is modular and can be scaled and integrated as production grows. With its capture and recycling technology, ElectraMet's chemical-free process presents a circular solution for handling Cu in waste streams, benefiting the plant, its employees, the surrounding community, and the environment.
Additional observed benefits include:
Eliminated 16,000 lbs of hazardous sludge per year.
Reduced operator hours due to automation and analytics which informed adjustments.
Analytics-informed upstream process troubleshooting maximized uptime and production quality.
Increased personnel time spent on preventative maintenance for other systems.